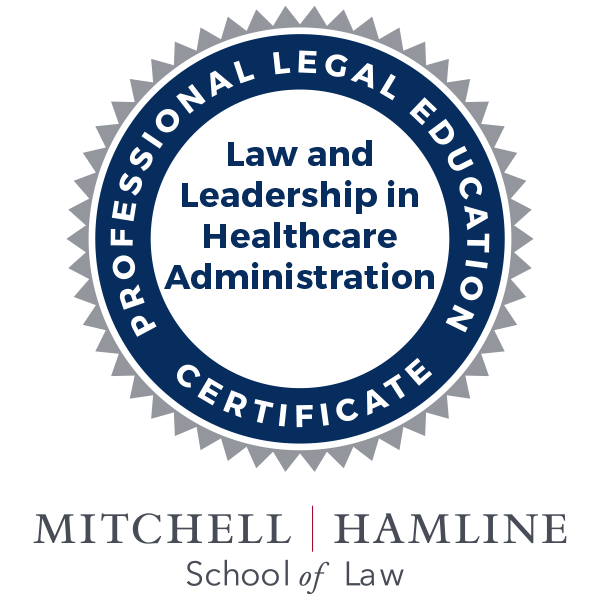 Type

Certification

Level

Intermediate

Time

Weeks
Additional Details
Law and Leadership in Healthcare Administration Certificate
Individuals who have earned a Law and Leadership in Healthcare Administration certificate have learned how to analyze federal and state laws and regulations governing the healthcare industry. They have also learned how to provide healthcare organizations guidance on protecting patient information and creating privacy plans, as well as how to detect and prevent fraud in billing/coding. Students will have demonstrated how to plan strategically and practice leadership skills.
Type

Certification

Level

Intermediate

Time

Weeks
Additional Details
Skills
Earning Criteria
Course 1: Healthcare Organization, Regulation, and Compliance. This course will provide an overview of the structure, organization, and regulation of healthcare in the United States. This course will also review the structure and regulation of private health insurance coverage at the state and federal levels, as well as Medicare and Medicaid, and provide an overview of healthcare law compliance.

Course 2: Healthcare Cybersecurity and Privacy Law. This course surveys the cybersecurity and privacy law landscape, focusing primarily on federal privacy laws in the healthcare sector. In addition, this course will introduce participants to the tenets of information security and information privacy risk management including common frameworks for identifying, treating, and managing risk.

Course 3: Healthcare Financial Management and Optimization. This course will explore the organization and finance of healthcare entities such as hospitals and long-term care facilities. In addition, this course will examine coding, billing, and the revenue cycle of healthcare and discuss emerging payment models.

Course 4: Healthcare Innovation, Strategic Planning, and Leadership. This course will examine new trends in healthcare innovation such as emerging technology, treatment options, methods of delivery, and business practices. This course will explore leadership and dispute resolution strategies. In addition, this course will review the process of strategic planning, decision making, and driving organizational change.
Standards