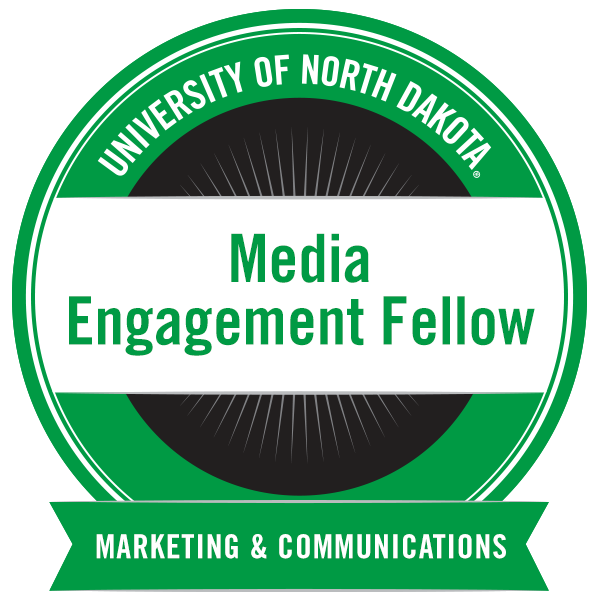 Type

Experience

Level

Foundational

Time

Hours

Cost

Free
Additional Details
Media training from UND's Communications Team gives you the tools and confidence to embrace the opportunities and navigate potential pitfalls of media engagements. We'll give you the tips and best practices to pull off a media interview that stays on message, promotes your work and puts the University in the best light possible regardless of the subject matter. Please join us for this 90-minute single session.
Type

Experience

Level

Foundational

Time

Hours

Cost

Free
Additional Details
Skills
Earning Criteria
The badge participant achieved an understanding of media interviewing techniques and how to prepare for and execute a successful media interview.

The badge participant learned strategies for effective promotion of self, research, other scholarly work and the University through media pitches, expert pages, op-eds and social media.

The badge participant learned ways to collaborate with the UND Communications Team to amplify their message.

1. BEFORE THE INTERVIEW 1.1. Understanding the opportunity  1.2. Understanding the topic 1.3. Identifying talking points 1.4. Background Materials 1.5. Delivering Your Message 1.6. Questions in Advance 1.7. Appearance

2. DURING THE INTERVIEW 2.1. Control the Interview 2.2. Interview strategies (bridging and flagging) 2.3. Prompt and honest answers 2.4. Speak in sound bites 2.5. Know your audience 2.6. Academic perspective 2.7. Be a good listener 2.8. Body language 2.9. Do not argue 2.10. Confidence and composure 2.11. The reporter or interviewer is not your friend

3. CONCLUDING THE INTERVIEW

4. FREEDOM OF EXPRESSION AS UNIVERSITY REPRESENTATIVE  4.1. FERPA/HIPPA/Investigations: 4.2. Freedom of expression 4.3. Academic freedom

SELF-PROMOTION/OP-ED 1. UND DIRECTORY PAGE 2. SOCIAL MEDIA  3. WRITING OP-EDS  4. LETTERS TO THE EDITOR 5. THE CONVERSATION

WORK WITH COMM OFFICE 1. INTERVIEW OPPORTUNITIES  2. MOCK INTERVIEWS  3. OP-ED PLACEMENT
Standards
Once the Media Engagement Fellow has completed this training, they will be cleared by UND for approved interviews and other media interactions.